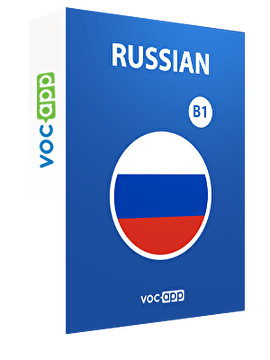 Russian B1
Broaden your Russian vocabulary (CEFR language level B1)!
Understand and speak the language of Tolstoy and Dostoevsky
Give yourself the chance to talk freely and fluently
Generate Russian sentences and phrases easily
Don't think about your pronunciation - our recordings will help you!
×
Jautājumi?
Izveidojiet kontu >

Izvēlieties maksājuma veidu

>

maksājums

>

Reģistrācijas apstiprinājums
izmēģiniet to bez maksas (30 speciālā zīme)
nopirkt pilnu piekļuvi
Character and personality




46 speciālā zīme

The arts




55 speciālā zīme

Body




36 speciālā zīme

Feelings




26 speciālā zīme

Health




45 speciālā zīme

Family and relationships




30 speciālā zīme

Job




42 speciālā zīme

Education




29 speciālā zīme

parādīt visas nodarbības (26)
Wszystkie kursy są objęte gwarancją zwrotu 100% zapłaconej ceny.
Do skorzystania z gwarancji nie jest wymagane przedstawienia żadnego powodu.
Z tej gwarancji mogą Państwo skorzystać w ciągu 30 dni od daty zakupu.
Pieniądze zostaną zwrócone na konto najpóźniej w ciągu 30 dni od kiedy dostanę informację, że chcą Państwo skorzystać z tej gwarancji.
Informacja o chęci skorzystania z gwarancji może zostać przesłana pocztą bądź e-mailem.
Marcin Młodzki
,
członek zarządu
(Warszawa, 1. października 2018)
VocApp Sp. z o.o.
ul. Mielczarskiego 8/58 | 02-798 Warszawa
NIP: 951 245 79 19 | REGON: 369727696
vocapp@vocapp.com
adrese
VocApp Sp. z o.o.
ul. Mielczarskiego 8/58
02-798 Warszawa
NIP: 951 245 79 19
REGON: 369727696
Online Russian courses
Our flashcards will present you some of the most important Russian vocabulary for each of the levels of proficiency. All of the Russian words have been chosen by our linguists based on their usefulness and importance. Each flashcard will explain a word or phrase, will give you the Russian to English translation and an example sentence for you to see the Russian grammar of the word. The lector will help you with the Russian pronunciation, so don't worry about it! Our effective method guarantees you'll learn Russian fast and remember the new Russian words forever! Ready to start?
Russian B1
If you already know some Russian vocabulary and are interested in intermediate language lessons - we have a special online Russian course prepared! The intermediate proficiency will let you discuss your personal and professional life, participate in an interview, describe your lifestyle and hobbies, order food or shop in a store, start a polite conversation and much more! If you want to learn advanced Russian grammar and proceed to Russian language practice with a native speaker, you have to know this Russian vocabulary list! Intermediate Russian will also help you if you wish to speak freely to the natives or think about studying in Russia. Don't forget to download our Russian B1 flashcards as an MP3 file and learn Russian with audio! You can listen to Russian words translation and learn them whenever and wherever you want! Learn Russian fast with VocApp and achieve your goals!
Want more Russian courses?
We prepared many special Russian courses for all levels. If you want to practice Russian more before proceeding to the Russian B1 course, take a look at our Russian Words: Top 1000 Nouns course, and review all the most useful and common Russian nouns! After that, you could review the top 500 verbs and top 300 adjectives and start learning more advanced Russian vocabulary!
---