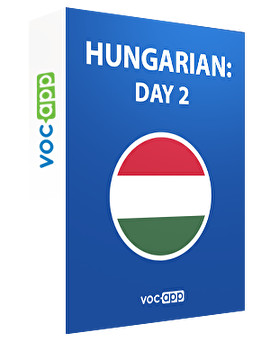 Hungarian: day 2
It's time to get to know the most important phrases!
Are you interested in this unique language?
Do you want to speak one of the most difficult languages in the world?
A local asks you how are you? - Sima ügy!
×
Jautājumi?
Izveidojiet kontu >

Izvēlieties maksājuma veidu

>

maksājums

>

Reģistrācijas apstiprinājums
izmēģiniet to bez maksas (20 speciālā zīme)
nopirkt pilnu piekļuvi
Numbers - Számok




60 speciālā zīme

And, or, but, so - És, vagy, de, tehát




23 speciālā zīme

Space - Hely




32 speciālā zīme

Useful nouns - Hasznos főnevek




36 speciālā zīme

Useful phrases - Hasznos kifejezések




20 speciālā zīme

Features - Jellemzők




30 speciālā zīme

Time - Idő




26 speciālā zīme

A typical conversation from a student's book;) - Egy tipikus beszélget...




15 speciālā zīme

parādīt visas nodarbības (10)
Wszystkie kursy są objęte gwarancją zwrotu 100% zapłaconej ceny.
Do skorzystania z gwarancji nie jest wymagane przedstawienia żadnego powodu.
Z tej gwarancji mogą Państwo skorzystać w ciągu 30 dni od daty zakupu.
Pieniądze zostaną zwrócone na konto najpóźniej w ciągu 30 dni od kiedy dostanę informację, że chcą Państwo skorzystać z tej gwarancji.
Informacja o chęci skorzystania z gwarancji może zostać przesłana pocztą bądź e-mailem.
Marcin Młodzki
,
członek zarządu
(Warszawa, 1. października 2018)
VocApp Sp. z o.o.
ul. Mielczarskiego 8/58 | 02-798 Warszawa
NIP: 951 245 79 19 | REGON: 369727696
vocapp@vocapp.com
adrese
VocApp Sp. z o.o.
ul. Mielczarskiego 8/58
02-798 Warszawa
NIP: 951 245 79 19
REGON: 369727696
How to speak Hungarian?
Second day to learn Hungarian , what are you thinking? Learning Hungarian with an app is easier? The best way to learn Hungarian is with flashcards and with VocApp , learning Hungarian is easier. With this learn Hungarian app , you will probably find it strange to have 14 vowels in Hungarian alphabet , but don't give up, our basic Hungarian course will help you in the most different situations. You will have access to the most used Hungarian words . To learn magyar it is essential to listen to the language, as such, with our course you will be able to hear Hungarian phrases and the Hungarian words most used . It takes discipline to learn Hungarian by yourself . With VocApp you can manage your time and learn at your own pace. With the help of flashcards it will be easier to memorize and learn to speak Hungarian . This course is an excellent tool to learn Hungarian in a fun way. You start by learning most used Hungarian words and with our memorizing system, the motivation increases, not lacking reasons to learn Hungarian . You will have access to varied vocabulary and you can learn Hungarian phrases , Hungarian words . With this learn hungarian app , insecurities like, "How to speak Hungarian?" will be outdone, thanks to our storage system.
Curiosities about Hungary
Hungary is a republic of Central Europe surrounded by the Dinaric Alps, the Alps and the Carpathians. The capital is Budapest which is at the junction of two cities that are in the Danube river. Buddha stands on the right side and Peste on the left side of the river. The magyar language is spoken by more than 14 million people. It is the official language of Hungary and is considered a rather complex language. Hungary is located in the center of central Europe, its dialect is quite different from neighboring countries. It is a country with about 9.8 million inhabitants. The surrounding areas that are part of the Kingdom of Hungary , which includes countries like Austria, Croatia and Slovenia, house about 2.2 million Hungarian speakers. This language derives from Asia, from the Ularic region. Did you know the word Hungary in Hungarian is Magyarország ? Discover more curiosities with our Hungarian lessons . Learning Hungarian online is very fun!
Take a look at our courses: Everyday phrases in Hungarian and Hungarian in 1 day
---